Celebrating Activities For the Mid-Autumn Festival and the National Day
Time: 2016-07-13 10:01:33
To carry forward the traditional culture of China and further implement Xiamen Node's humanistic culture centered on "home", as well as extend warmth and delight of the festivals, Xiamen Node held the celebrating activities (including Mooncake Gambling) for the Mid-Autumn Festival and the National Day at 17:30 on September 12that the banquet hall on the second floor of Wan Peng Mu Dan Hotel. At 6:00 pm on the dot, the toastmaster kicked off the celebrating activities. President Mr. Zhang and vice-president Mr. Wu delivered a welcome speech for the evening party respectively. They both extended festival greetings and blessings to all the staff and their families, whishing everybody a cheerful festival and a happy family.
President Zhang said that, Xiamen Node couldn't make a great achievement in its development without the active act of all the staff and the full support of their families. On behalf of Xiamen Node, he expressed sincere gratitude to all the staff and their families. Meanwhile, he wholeheartedly hoped that in the future development, Xiamen Node would strengthen its conviction to complete the established strategic goals and all the staff could put into effort and energy to realize a common vision. All the staff and their families fully enjoyed the celebrating activities and the hall was full of happy laughters and cheerful voices. They communicated their feelings about work, study and life and were all privileged to be with a company that put so much emphasis on humanistic concern. They all showed the willingness to be dedicated to their work. During the banquet, everyone enjoyed the good wine and dainty dishes, and the sounds of dice-casting, toasting, laughing and cheering filled the banquet hall. In such warm and auspicious atmosphere, everyone was full of confidence for the future of Xiamen Node and toasted a better future for this group company.
President Zhang of Xiamen Node is delivering a speech for the celebrating activities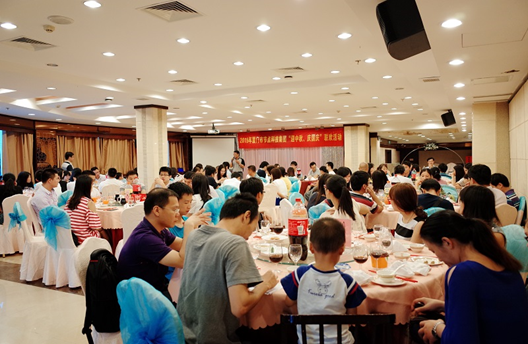 The festival-celebrating banquet
A group photo of Xiamen Node
Xiamen Node Technology Group Co., Ltd.
September 15th, 2015