The New Year Mountaineering Leisure Activities
Time: 2016-07-13 14:04:03
To welcome the arrival of the new year, further strengthen the ideology and physical fitness of all the staff, show vibrant spiritual attitude, release the positive emotion in the new year and create an atmosphere of striving for efficiency and benefit, the Labor Union of Xiamen Node organized all the staff to take part in the new year mountaineering leisure activities at Dongping mountain on January 9th, 2016.
The staff are mountaineering with joy
At 9 o'clock in the morning, the mountaineering started officially. Each one was just in high spirits and poised for the following activities. Although winter mornings here are piercing cold, Dongping mountain was extraordinarily delicate and pretty. The participants went all the way through the tree-lined mountain path and made their way towards the summit.
"Come on and hurry up. Victory is in the front!"
During the 90-minute-long journey, some people pressed on without letup until they got to the top of the mountain while others slowed down and admired the scenery along the way, cheering up each other and enjoying the fresh air and bright sunshine. Finally, they all reached the destination – Laoshanlin agritainment located on the Dongping mountain. This agritainment sets catering services, entertainment and relaxation as a whole and the green and comfortable environment here can help people totally enjoy and relax. After a short break, the staff began to conduct various sports or recreational activities like playing ping-pang, billiards, darts, cards and karaoke. The staff also took group photos when enjoying the beautiful natural landscape, which promoted the relation among all the staff.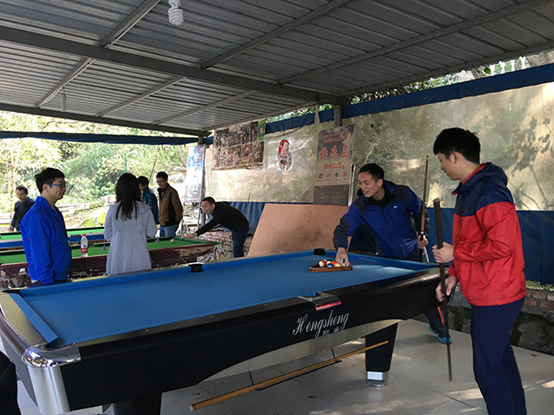 Playing ping-pong
Mountaineering can not only cultivate people's spirit and benefit physical and mental health, it can also help people develop latent energy and enhance the sense of self-confidence. This new year mountaineering helped the staff relax and alleviate the working pressure. It also created a positive atmosphere which inspired the staff's will to make great efforts and challenge a new height bravely. In the coming year of 2016, everyone in Xiamen Node will work harder and make their own contribution to the prosperous development of the group company.
The group photo taken to mark the new year mountaineering leisure activities
The Labor Union of Xiamen Node
January 12th, 2016