A Briefing of the Job Fair
Time: 2016-07-13 14:10:01
At 9 a.m. on March 4th, 2016, Xiamen Node took part in the "the spring job fair of the software park" hosted by the software park's administrative office of Xiamen Torch High-tech Zone committee and assisted by the management company of Xiamen information group innovation software park. On this job fair, Xiamen Node provided nearly 70 jobs on technical and functional posts. Our staff wore uniforms and work cards of Xiamen Node. Together with their high spirits, they were quite attractive in the crowds. Before the job fair officially kicked off, there were job-hunters stopping at our booth and looking through the poster. From 10 o'clock, we had crowds of job-hunters consulting and communicating with the staff at our booth. Our staff also explained elaborately each question raised by them with patience and enthusiasm.
We received altogether 171 resumes at the job fair. Xiamen Node always puts emphasis on the strategic reserve of the talents in the process of its development. We know that in the future market competition, qualified talents will play a significant role in the sustainable development of the company. Seeking and drawing the external talents while training and cultivating the internal employees are the way we have to take for becoming a century-old enterprise. The employees in Xiamen Node are supposed to be continuous learners and keep abreast of the company's development. The company must recruit and use talents with the characters of "filial piety, loyalty, and capability". The employees not only need to have correct values, morality, outlook on life and world view, but also have comprehensive abilities and professional skills. In the developing process, the group company will establish a long-term and ladder-like talent introduction and cultivation mechanism based on its own development need. It will also carry out various trainings for thought, professional abilities and skills based on the different demands of different positions and the specific conditions of the employees. The trainings will be carried out in various ways and adhere to the current situation of the market competition and the development trend of the professional knowledge.
Xiamen Node is at the stage of excellent and rapid development and we need a lot of professional and technical personnel. We have taken full advantage of the spring job fair and imported a lot of talents. The job fair was also a good chance to establish our brand image.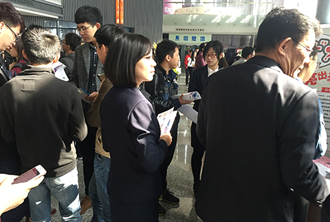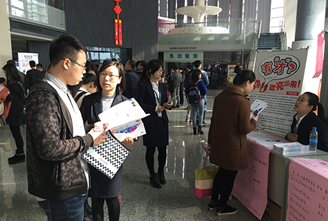 The crowded job fair