Go to the Gerocomium, Care and Donate for the Elderly
Time: 2016-07-13 13:51:01
Respecting and caring for the elderly is one of the traditional virtue of Chinese nation. To carry forward the fine tradition, implement to spirit of Xiamen Node's corporate culture, on the morning of December 25th, 2015, leaders of Xiamen Node led its charity to go into the Xiamen Red Sun gerocomium, extending their regards to the elderly and donating for them. We received warm welcome from the elderly there.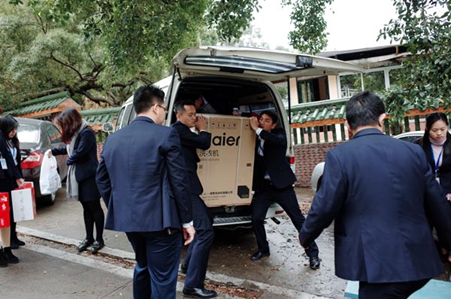 The charity of Xiamen Node was carrying the home appliances to the gerocomium
Carrying the gifts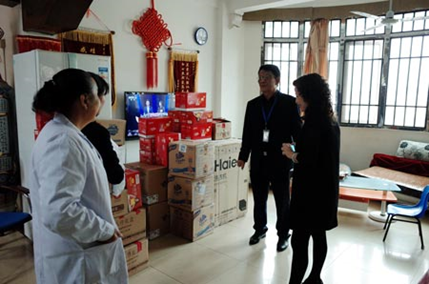 Director Cao was briefing to vice-president Wu the state of the gerocomium and the elderly here
Red Sun gerocomium is located at No.8 Bujiantian Road which is in the old district of Xiamen. It's just a couple of minutes away so we arrived there soon. Director Cao of the gerocomium and all the medical care personnel there gave us a warm reception and then brought us to the rooms of the elderly. The charity members showed great concerns to the elderly, talking with them about their stories in their young age and their current living conditions. The members also got to know their inconveniences in life and their hope. Director Cao told us that most of the old people here had no families to care for them or were even childless. Here they had specialized medical care personnel to look after them. Then, we sent some gifts like home appliances, living goods and food and extended warm greetings and regards to them. The elderly fully felt the warmth from us and we really hoped they could be healthy and full of spirit and energy.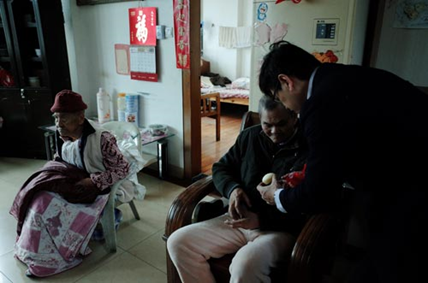 The charity member was helping the elderly eating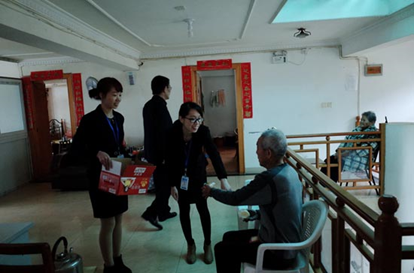 The charity members were giving out food to the elderly
People should always "expand the respect and care of the aged in their families to that of other families". The population of China is gradually aging and the elderly need more physical and mental care as well as spiritual consolation from others. Xiamen Node organizes social and public welfare undertakings every year. Through the activities at Red Sun gerocomium, we brought warmth and spiritual consolation to the elderly there with our practical action.
Mr. Wu, vice-president of Xiamen Node said that, it was our persistence to carry forward the spirit of our corporate culture and we would always be enthusiastic about public welfare undertakings. He hoped that this kind of activities would bring more enterprises and individuals to participate into social welfare.
Winter is coming and the temperature is lower and lower. While the elderly in Xiamen Red Sun gerocomium felt the spring-like warmth because of the coming of us.
A group photo of Xiamen Node's charity members
A group photo of the charity and staff from the gerocomium
Xiamen Node Technology Group Co., LTD
December 28th, 2015.