The Spring Outing Activity to Tong An Li Countryside of Xiamen Node
Time: 2017-05-26 17:08:41
Natural scenery in April is the most exquisite and it's the perfect time to have an outing. In the season full of comfortable breeze, twitter of birds and fragrance of flowers, to bring the staff close to nature and feel the breath of the spring, relieve the working pressure and enrich the leisure activities, enhance the staff's cultural taste and create a harmonious atmosphere, the Labor Union committee of Xiamen Node organized all the staff to take part in the spring outing activity to Tonganli countryside on April 22nd, 2017. The staff made a sightseeing tour and engaged in rich and colorful leisure activities, enjoying the beautiful scenery of nature together.
Xiamen Node always adheres to the people-oriented principle and inherits its corporate culture. It is truly concerned about the working and living conditions of the staff, and continuously carries out rich and colorful cultural activities for them. It also constantly nourishes and trains the staff to be more cooperative and dedicated. Through all these activities, the corporate culture of Xiamen Node was further carried forward and all the staff could deeply feel the humanistic concern of the group company.
Group photo
There were various interesting and energetic leisure activities in this spring outing. The white-water rafting feasted the staff's eyes on the picturesque scenery of Lijiang river; the dragon boat regatta enhanced their team cooperation and tacit understanding; the visit to the cultural center led them experience the historical changes; the forest exploration cultivated their personal will and mutual assistance; the barbecue buffet promoted their abilities to share out the work and cooperate with one another. This series of activities helped further establish a relation of mutual trust and understanding among all the staff. They also helped create a positive group atmosphere and remarkable group spirit, which laid a solid foundation for the future work.

white-water rafting on Lijiang river forest exploration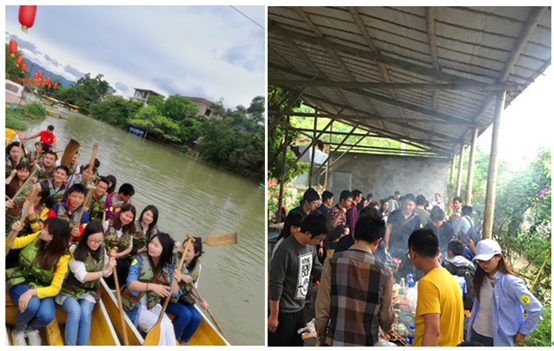 dragon boat regatta barbecue buffet
Xiamen Node highly values the physical and mental health of its staff. This spring outing left deep impression on all the staff and could be seen as an impetus for them to spare no effort to work. It catered to the need of cultural inheritance of Xiamen Node and would push forward the sustainable development of the group company.
The Labor Union committee of Xiamen Node
May 9th, 2017