Chengdu Office Leisure Activities to Sansheng Township
Time: 2017-06-01 09:37:21
To further implement the corporate culture of the group company and carry forward the spirit of humanistic culture, the Labor Union of Xiamen Node organized all the staff of Chengdu Office to go to the agritainment at Louwailou in Sansheng township and take part in leisure activities on May 20th, 2017. The aim is to bring the staff back to nature and help them relax and relieve working pressure. The activities could also help the staff adjust physical and mental conditions and integrate the company with positive spiritual outlook.
The environment of Louwailou agritainment
At Louwailou agritainment, from setting up the barbecue equipment to putting through the meat and vegetables onto the spit, from making the fire to concocting the flavor, everyone was busy but happy. When the food was ready, everyone was attracted by the smell and brooked no delay to taste.
The barbecue
After the barbecue, the staff had a short break. Then with excitement, wearing military uniform and holding game-using guns, the staff took part in the live CS and the losers had to do push-ups as game-punishment.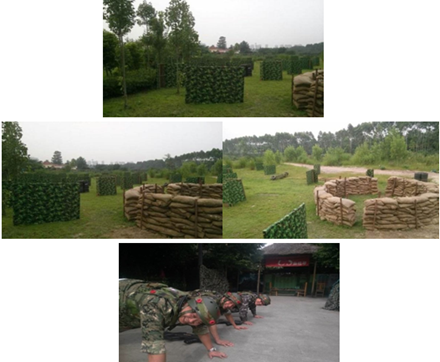 Live CS
After the exciting live CS, the still-energetic ones played badminton while the tiring but nature-loving ones went to fishing, walking or playing billiards.

Playing billiards and going fishing
Playing badminton and taking a walk
The leisure activities to Sansheng township not only brought the staff close to nature and helped them relax body and mind, but also promoted their working enthusiasm and further cultivated the awareness of collaboration and cohesion among the new and odd employees of Chengdu office. The activities also adhered to the group atmosphere of harmonious development and strengthened the ideology of all the staff. It also laid solid foundation of the continuous growth and development of Chengdu office.
The Labor Union of Xiamen Node
May 22nd, 2017