The Singing Contest of Xiamen Node Technology Group Company
Time: 2017-06-23 17:22:36
The singing contest held by the Labor Union committee of Xiamen Node ticked off on June 17th, 2017 at the meeting hall of Bailu Hotel. The singing contest was held successfully with the strong support of the leaders, high attention of all the department as well as the positive participation of all the competition teams. Some leaders of Xiamen Node, including executive vice president, vice president and chairman of the Labor Union were present at the contest and delivered important speech. They emphasized the purpose and importance of the contest in the construction of culture and thought. They also awarded the certificates and prizes to the winning teams.

The theme of this singing contest is "pushing forward the prosperous development of Xiamen Node". It was held for implementing the corporate culture, spreading the positive and harmonious enterprise spirit, shaping a good corporate image and uniting the force for development. From making plan to doing rehearsal, the singing contest lasted for about two months and gained the support and coordination of all the staff. The judges of the contest gave a mark to each team according to five criteria: intonation, timbre, uniformity & completeness, performance at stage & spiritual outlook, conducting & coordination. Among the marks given by all the judges, the highest and the lowest would be abandoned and the average of the rest would be the team's final mark, according to which the first, second and third prized would be decided. The criteria and rules showed fairness of the contest.
All the competition teams had made meticulous preparation and had excellent performance. The songs included Grateful Heart, Tomorrow Will Be Better, I Believe, Ode to the Motherland, My Chinese Heart and so on. The singings were quite infectious and the audience were totally immersed in them, giving applause from time to time. The competition teams brought us an audio-visual feast of culture with their beautiful singings. The songs also expressed their emotions towards the company, love for work and life, positive and optimistic life attitude as well as their strong will and fighting spirit.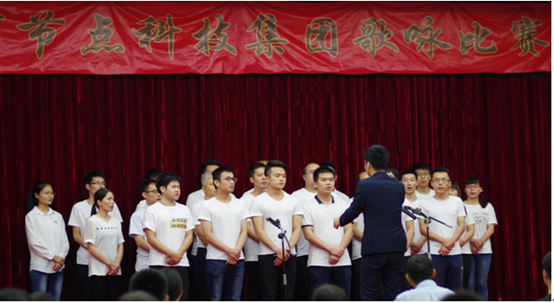 The singing contest is a huge success. It was a good opportunity to implement the corporate culture of Xiamen Node and carry forward its spirit of humanistic culture. Is also provided a platform for the staff to show themselves and motivated their positivity and initiative. Besides, it embodied the team cooperation and sense of group honor among the staff and played a significant role in inspiring the staff to work with more efforts and enthusiasm. The Labor Union will hold more activities in different forms and continuously push forward the construction of corporate culture. All these will be beneficial to the sustainable development of the group company.
The Labor Union committee of Xiamen Node
June 21st, 2017