The 2017 Annual Advanced Worker and Activist Commendation Meeting
Time: 2018-06-22 15:48:31
Employees are the foundation for a company's success, and excellent employees are the magic weapon. Guided by the leadership and influenced by the corporate culture, the staffs demonstrate unremitting spirits and come up with innovative ideas, forming a continuous drive to promote the development of the group. On the afternoon of Mar. 23rd, 2018, the company held the 2017 Annual Advanced Worker and Activist Commendation Meeting to praise those excellent employees, and to further stimulate staffs' enthusiasm, initiative and creativity.
At the meeting, the praised employees delivered acceptance speeches, expressing their thoughts, sharing their working methods and experiences. They said they must cherish honor, guard against arrogance, keep mission in mind, meet achievement again and make a bigger contribution to the group. After the speeches, the vice president, Mr. Wu Cixiang, and the chief executive, Mr. Xu Jinxin respectively awarded honorary certificates and bonuses to the excellent employees.
After commendation, Vice President Wu called the staff to learn good moral characters and work styles from the advanced workers and activists. Mr. Wu said that 2018 was important for Xiamen Node Group. He hoped the awarded employees would continue to demonstrate their outstanding styles of work, play an exemplary role, and make persistent efforts to drive all employees in the company to complete tasks. At the same time, the Group's Labor Union plays a key and positive role in maintaining a sustainable development of the company and encouraging employees to bring more benefits.
Through this commendation meeting, the staffs deeply realized that they could get tremendous benefits while achieving the company's maximum efficiency. Therefore, they could combine individual goals with the company's development targets. The stronger this sense is the more self-discipline employees are. They will fully tap their potential in work, seize various opportunities to improve themselves, show greater enthusiasm and motivation, and exercise individual's initiative and creativity, so as to make more contributions to the scalization and diversification of the company.
Xiamen Node Technology Group Co., Ltd, Labor Union Committee
April 3rd, 2018
Guests photo with advanced workers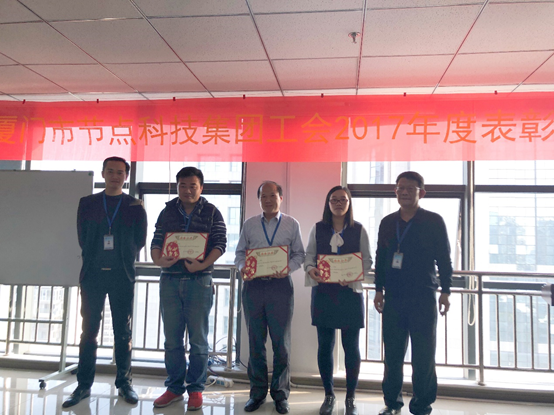 Guests photo with work activists