"Enjoy Hot Spring, Tour Songyuan" Outdoor Recreational Activities
Time: 2019-10-24 16:55:22
From May 11th to 12th, 2019, The group labor union organized all staff to Zhangzhou Gangwei Town for a two-day-and-one-night outdoor leisure activity to ease each department's tension after finishing the tasks according to the work plan.
After an hour's drive, we came to the Jiusongyuan hot spring resort in Gangwei Town. When we entered into the resort park, the blue and clear swimming pool came into sight. The park was full of green vegetation, including trees, flowers, and plants. The trees enshrouded the wooden house and seven hot spring pools scattered around the wooden house. When the breeze blew, the whole park was filled with flowers and fruits fragrance. What a comfortable resort it was! During the two days' vacation, all people experienced the hot spring, swimming, fishing, karaoke, billiards, mahjong, chess, and outdoor barbecue with abandon, enjoyed the countryside natural delicacies, escaped from the hustle and bustle, unloaded the burden, and relaxed their mind to enjoyed the leisure and colorful life.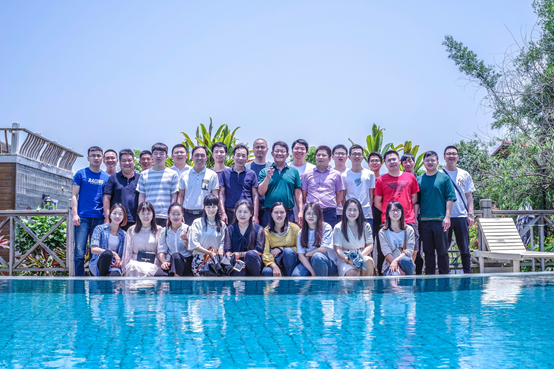 For a long time, the group labor union, abiding by the principles of combining life activation with people unity, and edutainment with work facilitation, enriches and activates staff's spiritual and spare time life through various activities. These recreational activities created relaxed and happy atmosphere. All staff not only completely relaxed their mind, but also gained physical and psychological health and happiness. Meanwhile, the communication between colleagues were enhanced, so were the company's cohesion and centripetal force. After the vacation, all staff devoted themselves to the daily work with pleasant mood and full energy and generated more passion for company. They would also more clearly realized that only the company developed well, they would obtain more benefits and welfare and display their values. Therefore, they would work harder to create high quality and efficiency achievements and performances.
Labor Union Committee of Xiamen Node Technology Group
May 17th,2019