Node Group Honored as "2019 China Scientific and Technological Innovation Unit"
Time: 2019-10-29 14:54:45
Node group still adheres to the business philosophy of "integrity, service, and innovation". It vigorously creates innovative culture and environment which contributed to attracting and cultivate innovative talents, pays closed attention to the development tendency of society, and continuously introduces advanced technologies from home and abroad. It has a strong research team to make contribution for enterprise and society in the transformation of scientific and technological achievements and the innovation of technologies.
The 16th China Scientists Forum, the annual scientific and technological innovation event, was held in Beijing from 8th to 9th, September 2019.The leaders of relevant ministries, and more than 1000 academicians, scientific workers, entrepreneurs attended this forum. Yang Bailing, the original vice president of Chinese Academy of Sciences and the honorary chairman of China Technology Market Association, and Zhang Jingan, the academician of International Eurasian Academy of Sciences and the president of China Society of Science and Technology Reform attended this forum and made speeches. Meanwhile, the excellent enterprises were commented at the meeting and Node group was honored as "2019 China Scientific and Technological Innovation Unit".
The enterprises are the main body of scientific and technological innovation in the society, while the scientific and technological innovation are the lifeblood of enterprise self-development. Node group will continue to strengthen its scientific and technological innovation capabilities, greatly improve the cooperation platform among enterprises, universities, and research institutes, and develop the scientist spirit and explore the scientific and technological innovation development, making contribution to the realization of the automatic and intelligent manufacturing of Chinese enterprises.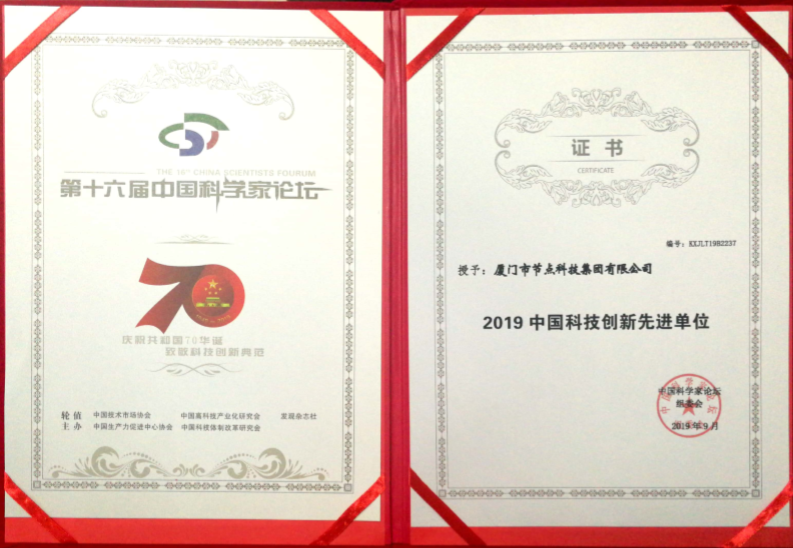 Xiamen Node Technology Group Co., Ltd.
September 9th,2019